Quitman Public Library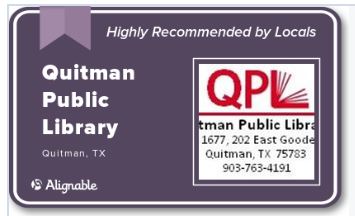 2nd Friday Night Acoustical Jam
November 8, 2019   6 - 9 pm

   6 - 9 p.m. come early as you like to tune up and practice in groups (some folks show up at 5 p.m.)
Acoustical instruments only
All ages and skill levels welcome.Listeners are always welcome, too! Refreshments available, and donations are appreciated.
GED Test preparatory courses are now online. Create your account at ged.com. 
Our on-site instructors are available to guide you. 
Choose your hours between 10 a.m. - 6 p.m. 

on Thursdays (language arts) and Fridays (math)

VISIT YOUR PUBLIC LIBRARY!

 
  
Knitting & Crochet Class For Everyone!
Instruction each Thursday 2 - 4 p.m in the library's main gallery. Instructors: Virginia Hoffpauir and Rebekah Yeager  FREE CLASS
TexShare Databases, and Internet Wi-Fi are available 24/7

If you are a patron, call 903-763-4191 for

login

information.
Click BELOW for OVERDRIVE access:

North East Texas 

Libraries Digital Collection
provides 

a digital catalog o

f Audiobooks and eBooks powered by: